Kent Wedding Photographer
Hi, I'm James, a documentary-style wedding photographer based in Canterbury, photographing weddings all over Kent, the South East and the UK, as well as destination weddings further afield. For me, there is no greater joy than capturing all of those priceless wedding day moments and presenting my finished work to my awesome couples, knowing that these are the photographs that they will treasure for a lifetime.
My style is natural, candid photography with a relaxed and fun approach. I want you to be in the heart of your wedding celebrations, having the best day of your lives knowing that I won't be far away, documenting all of those unforgettable moments. I couple those candid photographs with beautiful and elegant portraits that truly capture who you are as a couple.
What you can expect from me is someone who will make you feel at ease. Being the focus of hundreds of photographs doesn't come naturally to many, including myself! Throughout your special day, I will be just where I need to be to capture the very best photos without getting in your way. I will be a friend more than a supplier and once the day is over and you've enjoyed your honeymoon, you can look forward to a beautiful set of natural wedding photographs that perfectly capture your amazing celebration.
At heart, I'm a storyteller with a camera and I want to tell the story of your wedding with my photography. Whether you are planning a festival wedding in the Garden of England or a candlelit ceremony under a Tuscan sunset, I just can't wait to be involved! Think we might be a good fit? Why not get to know me a bit better?
Susie & Ben

Bix Manor, Henley-on-Thames

We will treasure them forever

Relaxed, professional, and creative... I am so happy that James was the photographer for our wedding day. His approach throughout the process put both my husband and I at ease, and it was like he was part of the party on the wedding day- all of our guests loved him! The results are exactly what we wanted... genuine photographs capturing little moments and details- we will treasure them forever.

Gemma & Roshan

Knowle House, Kent

He made us both feel so comfortable

I'm not the best in front of the camera but James just chatted away and made us both feel so comfortable from the moment he arrived. Then the pictures arrived and we were blown away to see all the moments of our wedding come back to life before our eyes, especially those candid moments when we didn't even realize he was there-like a real-life ninja. From the bottom of our hearts thank you so much for giving us the most amazing memories of our day.

Lotte & Ed

Tunbridge Wells

We cannot recommend highly enough

James is an exceptional photographer who we cannot recommend highly enough. He is incredibly hard-working, friendly, and talented. We are delighted with his photos and feel very lucky to have found him. He worked tirelessly to capture our day beautifully, thank you, James!

Rosa & Tom

Tall John's House, Wales

I knew he was the photographer for us, we got on like a house on fire!

From the first time I spoke to James on the phone I knew he was the photographer for us, we got on like a house on fire! He slotted in beautifully with our family and friends and quickly proved our most popular guest. He took beautiful natural photos and was very un-intrusive, which was exactly what we wanted.

Alice & Jamie

Kent

The photos we received were of the highest quality

He was a pleasure to deal with in the lead-up to the wedding, fitted in on the day itself, almost as if he was a guest (everyone loved him!), and then the photos we received were of the highest quality. So many people have commented on how they are the best wedding photos they have ever seen, and of course, we agree! We could not recommend James highly enough.
Featured Weddings
Goodnestone Park, Canterbury

Alkham, Kent
Natural, unposed wedding photography in Kent
If you want natural wedding photography for your big day, I can think of few better places that go hand in hand with that reportage style than Kent. Famous for its orchards and hop gardens, what better backdrop for your big day than the Garden of England?
In my opinion, Kent really does have it all! Literally surrounded by the South East coastline, you don't have to go too far for the nautical themed wedding day of your dreams. Or if valleys and hills is what you're drawn to, Kentish countryside can provide that effortlessly with the High Weald and Kent Downs (a personal favourite of mine!). And when only the spectacular will do for your wedding, there are few places more infamous than the White Cliffs of Dover.
Steeped in history, Kent also offers the perfect setting for a traditional wedding day. A lucky few have the opportunity to say their vows in Canterbury Cathedral itself, which many would consider to be the epicentre of Kent. For those of us who don't have an in with the Archbishop of Canterbury, St Augustine's Abbey and Dover Castle are close at hand and equally as breathtaking. If history is your thing, Kent has plenty to boast with big names such as Chaucer, Charles Dickens and Henry VIII (to name a few) woven into its past.
At the end of your wedding day, having washed down the cake with one too many Shepherd Neame pints, the Channel Tunnel is close at hand. It will be ready and waiting to whisk the new Mr and Mrs away, across the English Channel, to the honeymoon lying in wait beyond. In case you couldn't guess, I'm pretty passionate about photographing in Kent!
Where to get married in Kent
If you're considering a wedding in Kent, you are more spoilt for choice for wedding venues than the brides and grooms in any other county in the country. We have a heck of a lot of them down here in Kentish land!
When thinking about my past wedding photography in Kent, for me, there are few places like Goodnestone Park. This venue offers it all, from the stately manor house, to the quaint old church within its grounds, to the endless elegant gardens. If having your ceremony alfresco appeals to you, the Secret Garden, Wilderness Weddings and Mount Ephraim Gardens would all be fantastic options for you as well. These venues provide a down to earth and relaxed vibe, allowing you to create the special day only you can imagine.
It wouldn't be Kent without mentioning The Old Kent Barn. Number one on many couples lists, this venue combines the rustic charm of the past with all the conveniences of the present, helping your big day to run seamlessly. Another amazing barn venue that has to be mentioned, with its picturesque bridge over still waters, is Winter Barns in Canterbury.
If you're looking for grandeur, have a peruse around Hever Castle and Leeds Castle. You can't get much more grand than a castle! The country estate of Knowlton Court also has ample space for the celebration of your marriage and well worth a look around.
Of course, if you're seeking the truly unique, look no further than The Winding House (a former Victorian mining building), Port Lympne (complete with safari animals), Marleybrook House (with its outdoor fairground) or Fort Amherst (a historic military base). I told you… Kent has it all!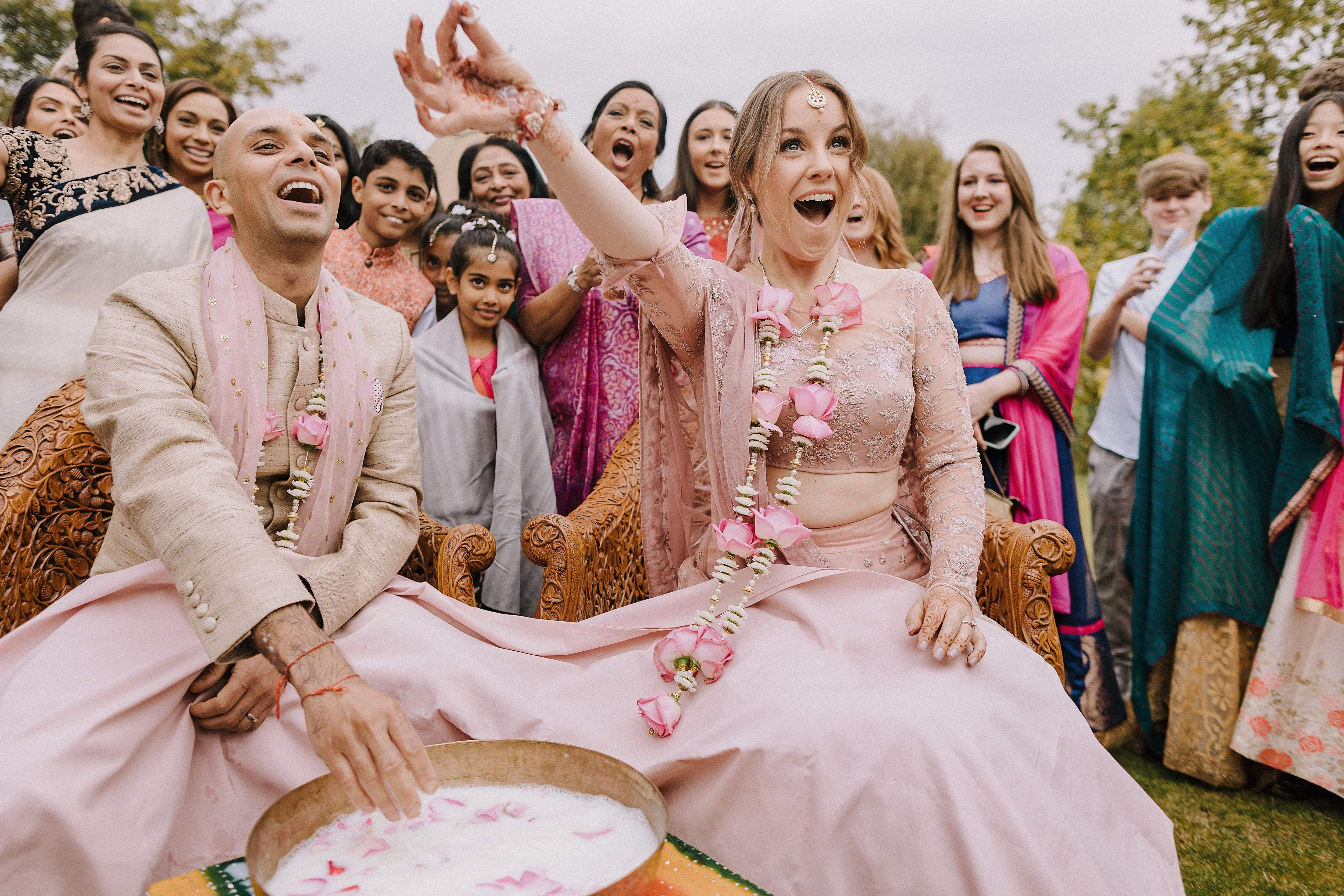 Your wedding, your way
Planning a Kent wedding that's a little bit different? Count me in! When a bride or groom calls me up to say "So, I've got this idea. Hear me out", I'm already sold. Helping my couples bring their big day to life is the best thing about my job.
Whether you want a bouquet of wild flowers to go with your gold wedding dress or the full veil, tiara and morning suit, I would be so excited to be a part of your celebrations. Believe me when I say, I've seen it all, but there's something about capturing a bride walk down the aisle and the look on the groom's face that just makes me smile every time. From the getting ready with flower girls and bridesmaids, to the confetti throw and all the way through until the first dance, I simply love weddings in all shapes and sizes.
So, if you're looking for a Kent Wedding Photographer, I would love to talk to you about your wedding day. Head over to my contact page and let's talk through your plans in more detail!